September SIXTH (5d) the Day of UNPREDICTABLE FATE:
The Jack of Clubs Club
  "Don't buy a single vote more than necessary. I'll be damned if I'm going to pay for a landslide."  Joseph P. Kennedy
Those born on September 6 are extremely vulnerable to the hidden workings of chance. More than others, their lives seem guided by the hand of fate, for better or worse. For many born on this day, life may be proceeding predictably when seemingly for no reason at all - WHAMMO!
Strengths: Accepting, Sympathetic, Tasteful
Weaknesses: Self-involved, Repressed, Fatalistic
ADVICE: Learn to work with Fate. It is neither your enemy nor your friend, but it can become an accepted companion. Don't be afraid to take the imitative. Build solidly and let go of some of your cherished illusions. Don't believe that you are misfortune-prone.
BORN ON THIS DAY: Jane Addams, Joseph P. Kennedy, Jane Curtin, Chris Christie, Carly Fiorina; Source: The Secret Language of Birthdays Gary Goldschneider & Joost Elffers.
MEDITATION: Thinking and speaking are powerfully predictive actions. 
Diamonds - Values - Security – Dharma
5 of Diamonds - Fluctuation in Finances
FIVE 
 of Diamonds: The SALESPERSON Card -  This card has its share of challenges and its share of gifts. Like all fives, they dislike routine and abhor anything that pretends to limit their freedom. They can be perpetual wanderers, never settling down for anything long enough to make it pay off. This includes their work and relationships. All 5 have an inner restlessness, but they truly want to accomplish something of value and stability in their lives. They are inherently spiritual and know what is of true value. The challenge comes in practicing what they know. They come into this life with a certain amount of karma which often takes considerable hard work to discharge. If they are lazy, there will be many problems. They must practice what they know and do what it takes to get the job done without shirking responsibility. They make great sales people and they have tried many things in life and know how to relate to anyone on their own level. Their inner truth is their guiding light.
Your Karma Cards are the: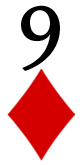 NINE of Diamond
s - You owe something to this person and they reflect you in some way.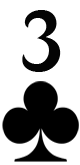 THREE of Clubs
 - This person owes you and you are their mirror in some way.
FIVE 
 of Diamonds BIRTHDAYS: January 22 (Aquarius), February 20 (Pisces), March 18 (Pisces), April 16 (Aries), May 14 (Taurus), June 12 (Gemini), July 10 (Cancer), August 8 (Leo), September 6 (Virgo II), October 4 (Libra), November 2 (Scorpio);
FAMOUS
FIVE 
 of Diamonds: 
William Stephen Belichick
is an American football coach who is the head coach of the New England Patriots of the National Football League.
April 16, 1952 (age 65), Nashville, TN.
FAMOUS FIVE 
 of Diamonds: Diane Lane, Sidney Poiter, Peter Ustinov, Queen Latifah, Cate Blanchett, George Bush Sr., Jessica Simpson, Dave "The Edge" Evans, Jeff Foxworthy, Susan Sarandon, Alicia Silverstone; 
Source: 
Robert Camp's
Love Cards
  www.7thunders.com 
 FIVE of Diamonds: Money consciousness is strong for these people, and when it's regarded as a means, not an end, finances are usually at their disposal. Limitations and restrictions in regard to their financial security come through troubling health, or a hampering physical affliction; through difficulties with children, or through a loved one who is faced with trials that cannot be shared. The 5 of Diamonds must choose their course and stick to it. They must seek a place in life where they can forget themselves and make a contribution, and they must learn to abolish their constant uncertainty. They must also guard against creating a separate reality that's out of sync with the reality of those around them! http://www.metasymbology.com/
VIRGO II The Week of the ENIGMA September 3-10: Virgo II's are puzzling individuals, often proving difficult even for those closest to them to figure out.Their faces do not easily reveal what they are really thinking; indeed, showing emotion can be difficult for them. Behind their attractive or impressive exterior may lurk an unexpectedly guarded individual. Sphinx-like, Virgo II's are not above constructing devious defenses and cultivating an air of mystery about themselves and what they do. They sternly resist attempts to analyze them, and often make it clear that they are in no way interested in discussing their personal or family life. The reason for this is seldom insecurity, but showing vulnerability can be a problem for Virgo II's, and can keep other people from getting really close to them. So strong is the belief of Virgo II's in their own individuality that some of them will put themselves above accepted social codes. Such people can become isolated and lonely, appearing unapproachable Those born in the Week of the Enigma are blessed with great inner strength. Many Virgo II's inspire confidence in others, and they may often be called upon to help out or take charge. Yet those born in this week can find it difficult to respond when high expectations are placed on them. Their natural tendency at such moments is to withdraw into their private, often secretive world.
Strengths: TASTEFUL - PRACTICAL - THOUGHTFUL
Weaknesses: GUARDED - OVER-EXACTING - DETACHED
Advice: Try to maintain flexibility and acceptance without compromising your high standards. Open your heart in love relationships. Be aware of your condemning and unforgiving side. Gentleness, kindness and diplomacy are traits worth developing. Beware of putting yourself above the law or outside society. Don't be afraid to show your vulnerability.
 VIRGO II NOTABLES: Peter Sellers, Buddy 
Holly, Leo Tolstoy, Joseph P. Kennedy, Carly Fiorina, Raquel Welch, Colonel Sanders, Patsy Cline, Queen Elizabeth I; Source: The Secret Language of Relationships Gary Goldschneider & Joost Elffers.
Astro-Psychometric Quadrants
January 22  (Capricorn-Aquarius), February 20   (Aquarius-Pisces), March 18  (Pisces III), April 16  (Aries III), May 14  (Taurus), June 12  (Gemini III), July 10  (Cancer II), August 8  (Leo), September 6  (Virgo II), October 4  (Libra II), November 2   (Scorpio I)
  Self                                                                 
  Ego
September SIXTH
the Day of UNPREDICTABLE FATE: get their Unpredictability from being born a VIRGO II The Week of the ENIGMA September 3-10. September 6's Ego, Who They Think They Are, the QUEEN
 of Spades "Self-Mastery," the second most powerful card in the deck, leads them to believe, rightfully so, that they can do it all.
Unfortunately, the QUEEN 
of Spades karmic fear is Self-Mastery - you might say September 6 is the antithesis of the Open Loop Limbic System, They are self-contained individuals subject to outside forces beyond their control.
The lives and times of Chris Christie and Carly Fiorina certainly fit the bill but Jane Curtin is funnier.
FIVE  of Diamonds Connections 
Best Marriage 
Hottest Sex